Junhao 3 is made for pipe laying which is specially designed. It can lay submarine pipeline, cable, dig channel, backfill, implement engineering service and goods transport.
It can operate different underwater equipment, with a track crane of 150t for lifting operation and a pipe laying line on deck.
Junhao 3 was built on January 24, 2007. It docks mostly at Tianjin port.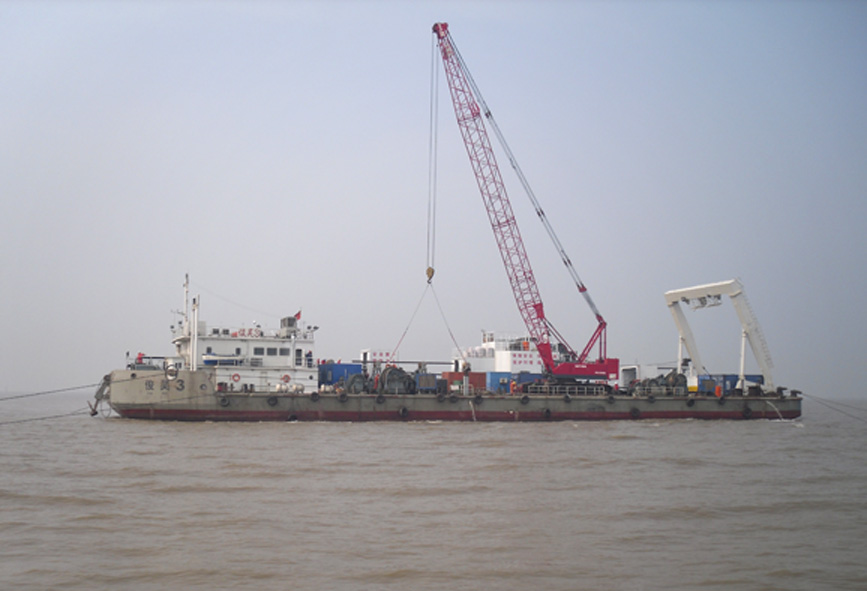 ZC: Register of Shipping of The People's Republic of China
Nationality: Tianjin of China
Navigation Area: Inshore
Working Area: A1 A2
Main Parameters
Length.O.A: 75.5 meters
Breadth: 24.6 meters
Depth: 4 meters
Light Draught: 1.357m
Loaded Draught: 2.5m
Gross Tonnage: 2207t
Net Tonnage: 1853t
Loaded Displacement: 4359.5t
Light Displacement: 1205.2t
HullMaterial: Steel Deck Material: Steel
Deck Type: main deck, top deck, lower deck and boat deck
Cofferdam Tank: 5 Structure: Crisscross keel
Ballast System:
Forepeak(C) : 400.15m3 NO.1 Ballast Water Tank(P&S): 267.40 m3
NO.2 Ballast Water Tank(P): 169.17 m3 NO.2 Ballast Water Tank(S): 157.00 m3
Fuel Tank(P&S):237.08 m3 Fresh Water Tank(P&S):544.04 m3
Total Volume of Pollution Tank: 2 m3 Total Volume of Oil Tank: 0.2 m3
Available Deck Area: 1000 m3 Deck Load: 5t
Machine on Barge
Mooring System
Main Anchor: ¢46 (one unit)
Fix Anchor: 35t (four set)
Fix Anchor: 60t (four set)
Safety Equipment
Life Raft: 6 QJF-B25 Life Buoy: 8 5566-I Cable Throw Equipment: 2set
Fire Pump: 1(80ZWD50-32 emergency fire fighting pump), 2(80ZWD50-50 main fire fighting pump)
Marine Diesel Engine:3(400KW submarine diesel engine), 1(64KW submarine diesel engine)
1(30KW submarine diesel engine)
Deck Gear
Gantry Crane: 35t (one unit)
Track Crane: 150t (one unit)
Pipe laying line(one Tensioner of 500KN, one A/R Winch of 500KN)
Other
Accommodation
Max. Berth: 84 persons (80 operators)
Navigation Aid
Navtex Receiver SNX-300
Epirb SEP-406
Search and Rescue Radar Transponder TBR-600A
Communication
VHF/DSC Radio Installation RH-50
MF/HF Radio Installation SRG-1150DN
TWO-WAY Radio Telephone TW-50
Fix
Fix-position GPS (one unit)