Introduction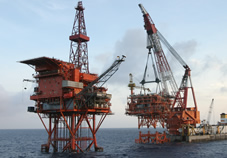 Tianjin Jun Hao Offshore Engineering Co., Ltd. (JHHG for short) is registered In Tanggu of Binhai New Area, Tianjin, China, mainly on offshore engineeting, design and technical consultancy, port engineering, maintenance of offshore platform and ship, machanical equipment lease and repair, steel structure fabrication, shipping freight agent, domestic waterway transportation agent, ship agent, ordinary freight transportation along the domestic coast line, middle/lower reaches of Changjiang River, etc.
At JHHG, there is a variety of machinery and equipment 190 Taiwan ( sets), including domestic and international advanced level of" H type contact type submersible jetflow spray type trenching machine ( patent )";" T submersible jetflow spray type trenching machine" ( patent ), ect. submarine cable burying machine, jetting pillar pipe silt suction machine, amphibious work vehicle, amphibious trencher, land backhoe, 150 tons of crawler cranes. Shallow sea pipe laying boat 'Junhao 3' ( 2207 tons ).
Since the establishment of the company, has to undertake Thailand PTT after third oil pipeline trenching and backfill; Caofeidian sea pipe repair of pre / post trenching; Oriental 1-1 sea pipe repair; the Fujian refining and ethylene project of submarine oil pipeline engineering pre / post trenching, sewage discharge after ditching; Yuedong oilfield A1 / A2 offshore platform jacket installation Shanghai; LNG pipeline trenching, pipe laying, after landing, pipe jacking through sea pipe hauling landing; NP1-29P to NP1-2D laying of submarine pipelines; SZ36-1 stage to adjust the project; Bo southwest network supply project deep ditches and other major engineering.
Jun Haohai's work has a strong technical force, sophisticated construction equipment, improve the management mechanism, rich construction experience. The company completed the project, without exception, by the owners and the quality inspection departments at all levels of the highly praised.


HSE system:
Tianjin Jun Hao Marine Engineering Company Limited HSE ( health, safety and environmental protection ) management system in line with the OHSAS18001: 2007 occupation health safety management system. In 2006 successfully passed DNV certification of management systems.